Perhaps the most famous cigar smoker of all time, Sir Winston Churchill is synonymous with the luxury pastime. In fact, the long, tubular cigar format known as the Churchill (also referred to as a Julieta No.2) is indeed named for the former British Prime Minister.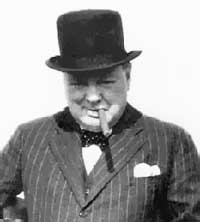 Churchill's cigar smoking began in Cuba in 1895 at the young age of twenty one. Churchill and fellow British officer Reginald Barns arrived in Havana that November to observe the Battles between the Spanish army and Cuban guerrillas. Apparently, the young officers were stood up by the Spanish Military, whom they were supposed to rendezvous with. Having misses the boat (literally), the two Brits decided to take a room at one of the finer hotels in Havana and spent the next few days smoking Cuba's best. Thus began Churchill's favored appreciation of the Cuban cigar.
Fernandez Rodriguez is credit for the introduction of "The Churchill" cigar which measured seven inches in length with a ring gauge of forty seven. Rodriguez was known in that era for making personalized cigar bands for the rich and famous.
Rumor has it that Sir Winston smoked as many as 10 cigars a day, an estimated two hundred and fifty thousand lifetime. He was particularly fond of larger cigars, but apparently never smoked them more than halfway. Winston Churchill was a scholar, statesmen and a connoisseur of fine Cuban cigars.